<![if !vml]>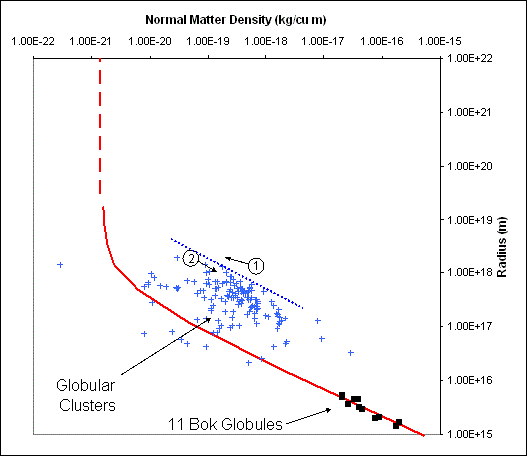 <![endif]>This analysis is part of a sequence of logical steps that are described in Investigation. 
This analysis is based on data on 151 globular clusters that is published at Source
Globular clusters are dense collections of stars usually orbiting within a galaxy.  Omega Centauri is the largest local example of a globular cluster.  Most of the Milky Way's globular clusters are orbiting outside the galaxy disc.  An explanation of the existence of globular clusters according to the AGM Theory is set out in Behaviour.  This explains that they are an example of the AGM Excluded state.  They are so dense that the AGM Boundaries of most of the stars have combined.  It also explains that globular clusters may contain very old stars but they are relatively short lived objects.
For this analysis the mass of the globular clusters was estimated from their apparent magnitude and their distance. To do this they were assumed to comprise of only sun-like stars.  As an example the mass of the stars in Omega Centauri calculated this way is 1.57 × 1036 kgs (7.85 × 105 sols).  However the mass of Omega Centauri quoted in many other sources (for example here) is about 1 × 1037 kgs (5 × 106 sols).  This analysis continues on the assumption that the first figure is most accurate estimate of normal matter mass.
The radii, volumes and densities of the clusters were then calculated.  This allowed each cluster to be plotted as a blue cross on the graph on the right.  These are shown in the context of the red Dnx line and the Bok globule data as developed in Investigation.  Note that the density of a cluster is not necessarily the AGM Exclusion Density.  The cluster's AGM Boundary is somewhere within the cluster.  However this affects each cluster and the point does not detract from the discussion below.
It can be seen that most globular clusters are well above the density that would be predicted from a simple comparison with the red Dnx line.  Most clusters fit into a fairly tight group on the graph but there are several clusters scattered outside the group at lower densities and/or lower radii.  There appears to be a cut-off marked by the dotted blue line above which there are no clusters.  The cut-off is quite close to where the clusters are most tightly grouped.  It also appears to be approximately parallel to the lower part of the red Dnx Line.