<![if !vml]>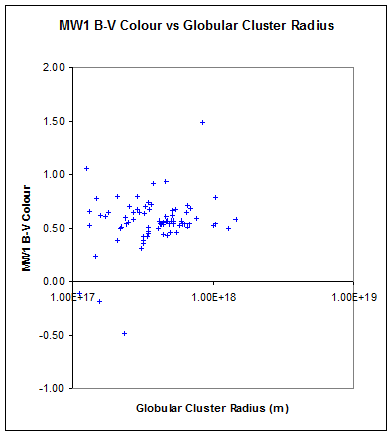 <![endif]>The graph on the right shows MW1 B-V data plotted against globular cluster radius.  Compare this with the graph at the top of the page.  It can be seen that the globular clusters appear to be arranged in families that have a linear relationship between MW1 B-V colour and log(radius).
The optimum MW1 correction to maximise this effect is given by:-
MW1 B-V Colour = B-V Colour – 0.068 × (length of light path through dust disc)/T
Where the offset f = -0.11 (below the galaxy plane)
According to the AGM Theory
The reason for the appearance of the linear relationships is unknown and assumed not to be caused by anti-gravity matter.  However this observation is referenced later in the Analysis of Elliptical Galaxies.